DaddysLittleDemon's Profile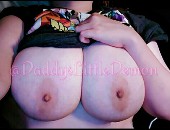 User Information:
Username:
DaddysLittleDemon
Location:
Hell
Sexual Orientation
: Bi-Sexual
A little about me...
-I pretty much only get off on anything taboo/illegal. 😂

-I am a BBW pansexual Dom/sub switch.

-Mostly into DD/lg and age play. If you don't like it or know what it is maybe don't bother talking to me.

-I don't like sending pics/vids so don't bug me about it. I'll block you. I'm more into text/audio.

-feel free to say hi if we have similar interests. I've left a few of mine out as they're very frowned upon, so the more taboo you are the better! I wanna meet people with ZERO LIMITS.
DaddysLittleDemon's Recent Uploads
User has not uploaded anything!
DaddysLittleDemon's Friends
You do not have any friends added!